Research & Advice - Study
Latest Article: Renewable Energy Could Fuel Electric Car Sales In Australia - QUT
As Australia's energy debate heats up, particularly supply issues and future energy sources, a bystander in the debate could be the electric vehicle. Nissan in particular has been vocal on the lack of state and federal government incentives ...
Continue Reading
Jun, 24 2017 (4 months ago)
4 Comments
Apr, 02 2017 (7 months ago)
Dieselgate - Volkswagen Diesel Fix Questioned By Independent Swedish Test
A Swedish examination of Volkswagen's diesel emissions fix has called into question claims the recalls do not comp...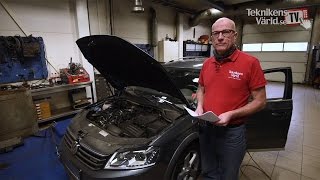 0 Comments
Mar, 29 2017 (7 months ago)
2017 Dieselgate Power And Economy Test - Teknikens Varld
2 Comments
Mar, 29 2017 (7 months ago)
More Data Confirms Car Ownership Is Declining
Traffic congestion, increased costs, living in the city, pollution, taxes…as TMR has reported previously it&rsquo...
11 Comments
Mar, 29 2017 (7 months ago)
Lobbyists Claim Fuel Consumption Stickers Are Lying And Regular Unleaded May Be ...
The Canberra-based Australian Automobile Association (AAA – the summit group of motoring organisations like the NR...
1 Comment
Dec, 18 2016 (10 months ago)
Suncorp Blows The Whistle On Genuine Parts Prices
In a submission to the ACCC's 'New Car Retailing Issues Paper', Suncorp Insurance has called into ques...
2 Comments
Oct, 26 2016 (12 months ago)
Speed Enforcement Keeps Our Eyes Off The Road - University Of Western Australia
Findings from a study released this week confirm what most in the motoring community already knew - that draconian enfor...
1 Comment
Oct, 04 2016 (1 year ago)
A New Tax Slug For Melbourne Motorists?CBD A No-Go Zone?
Melbourne motorists are feeling like a hunted species today. Many will have endured significant delays in the current...
3 Comments
Sep, 26 2015 (2 years ago)
Electric Vehicle Sales Break Through One Million Barrier
There's now one million electric vehicles potentially travelling the world's roads, according to reports out...
10 Comments
Sep, 08 2015 (2 years ago)
Why Do We Tailgate? Queensland University Of Technology Launches Study
All drivers hate it, and yet most are guilty of doing it. That's the finding from a Queensland University of Te...
1 Comment
Aug, 11 2015 (2 years ago)
Australia?s Motoring Census: Motorcycle Segment Shows Strongest Growth
Australians are beginning to embrace the idea that motorcycles may be a viable alternative to cars, with the segment sho...
1 Comment
Jul, 29 2015 (2 years ago)
Australian Energy Suppliers Call For More Government Support For EVs
Tesla Australia's Heath Walker told TMR last week that the carmaker is holding "regular" meetings with...
2 Comments
Jul, 21 2015 (2 years ago)
Australia?s Quickstep Holdings Wins Automotive Manufacturing Contracts
An Australian company has produced a demonstration roof for an Audi A1 made from carbon-fibre, winning itself a supply c...