Research & Advice - Social Media
Latest Article: Elon Musk Hints At Greater Performance Potential From Tesla P100D Range
Tesla CEO Elon Musk has once again taken to Twitter to hint at the electric automaker's next big announcement - in this instance a possible performance upgrade for the flagship P100D drive system available in the Model S sedan an...
Continue Reading
Nov, 06 2016 (12 months ago)
4 Comments
Jun, 29 2016 (1 year ago)
2017 Citroen C3 Officially Unveiled - Likely To Return To Australia
Citroen has pulled the covers from its all-new C3, revealing what it calls a "fresh take" on the light car c...
15 Comments
Sep, 05 2015 (2 years ago)
Holden Commodore VFII Teased - ?Hearing Is Believing?
Holden has treated its fans to a first glimpse of the next and final Holden Commodore as we know it, with...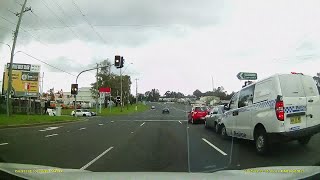 0 Comments
Apr, 29 2015 (2 years ago)
2015 Police Car Collision NSW - Dash Cam Owners Australia
4 Comments
Apr, 29 2015 (2 years ago)
Dash Cams: Victoria Police Warn Against ?Vigilante? Online Shaming
Police have warned against the use of dashboard-mounted cameras for 'vigilante' behaviour, as the technical ...
0 Comments
Apr, 28 2015 (2 years ago)
Tesla, Elon Musk Social Media Accounts Hacked
Social media accounts for electric vehicle maker Tesla and its CEO, Elon Musk, were the target of hackers over the weeke...
1 Comment
Jan, 17 2015 (3 years ago)
Elon Musk Teases Texas Hyperloop, Proposes Annual Student Pod Race
Tesla CEO Elon Musk has taken to social media to update fans on his next move for the revolutionary Hyperloop experiment...
10 Comments
Jan, 05 2015 (3 years ago)
NSW Speed Camera Activists Gain International Attention, Ministerial Fury
What started as a Facebook page encouraging drivers to obscure the view of mobile speed cameras in Australia has now gai...
1 Comment
Dec, 23 2014 (3 years ago)
AAMI Finds Majority Of Young Drivers Distracted, Launches App
Insurer AAMI has found the vast majority of young drivers report being distracted at some point while behind the wheel. ...
0 Comments
Dec, 07 2014 (3 years ago)
The Social Party: Join TMR On Facebook, Twitter, Google+ And Instagram
Whether you're a regular TMR reader or a new visitor to our corner of the interwebs, there's a handful of easy w...
7 Comments
Dec, 05 2014 (3 years ago)
Young Drivers Recognise Road Risks, 'But, Like, You Know, Whatever'
A survey by Western Australia's RAC has revealed young drivers accept that certain behaviours are risky while driv...
1 Comment
Nov, 24 2014 (3 years ago)
Parents Setting Bad Example With Mobile Phones While Driving: QUT
A new Queensland University of Technology study has found parents are setting a poor example when it comes to mobil...
1 Comment
Sep, 01 2014 (3 years ago)
Survey Reveals Growing ?Selfie? Trend While Driving: Video
A survey commissioned by Ford in Europe has found one in four young drivers admit to taking a 'selfie' ...