Research & Advice - Parking
0 Comments
Jun, 14 2017 (4 months ago)
2018 Audi A8 Teased In New Video - Summon Parking A New Feature
Audi's new A8 luxury sedan for 2018 is set to be officially unveiled next month, and the carmaker has kicked off t...
1 Comment
Feb, 29 2016 (2 years ago)
Tesla Model S - Latest Update For Australia Brings Summon Remote Parking Feature...
Tesla continues to roll out the updates for its Model S luxury electric sedan, and the latest brings a new feature allow...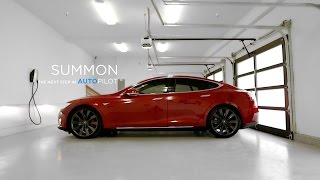 0 Comments
Feb, 28 2016 (2 years ago)
2016 Tesla Model S - Autopilot Summon
2 Comments
Jul, 16 2015 (2 years ago)
Volkswagen V-Charge: Autonomous Parking, Wireless EV Charging - Video
Volkswagen has revealed details of a futuristic carpark that sees cars parking and recharging themselves (if required) u...
9 Comments
Jun, 22 2015 (2 years ago)
Queensland Learner Drivers: Forget Parking Skills, Just Don?t Speed
Queensland's new Labor Government has continued to target the state's motorists in its first months in ...
8 Comments
May, 01 2015 (2 years ago)
Melbourne: Two-wheeled Power To Get First-Class CBD Treatment In New Plan
Melbourne City Council is keen to promote the use of motorcycles and scooters around the city's CBD, according to ...
8 Comments
Jan, 07 2015 (3 years ago)
Google Glass: A New Weapon For Sydney Parking Inspectors
Parking inspectors around Australia could soon have a new weapon to monitor those who overstay their welcome. The sys...
8 Comments
Dec, 04 2014 (3 years ago)
NSW To Hand Out Demerit Points To Disabled-Parking Cheats
Drivers in New South Wales who illegally park in spaces reserved for the disabled will soon face a demerit point penalty...
4 Comments
Jun, 09 2014 (3 years ago)
Australian Motorists Paying $63 Billion Per Year In Running Costs: Bingle
Australian motorists are collectively paying $63 billion per year in running costs to keep their cars on the road, accor...
8 Comments
Apr, 07 2014 (4 years ago)
?Automatic? App Can Improve Economy And Safety, For Some Cars: Video
Mobile phone app Automatic has leapt from iPhone to Android this week, aiming to make driving more efficient b...
0 Comments
Mar, 15 2014 (4 years ago)
The Week That Was: Toyota Kluger, Australian F1 Grand Prix, McLaren 650S
The 2014 Toyota Kluger arrived in Australia this week, available in three trim grades and priced from $40,990 plus on-ro...
4 Comments
Mar, 11 2014 (4 years ago)
Sydney Drivers Paying ?More For Less? With Parking: NRMA
Sydney motorists are paying more for a dwindling number of parking spaces than their counterparts in similar c...