Research & Advice - Highway
Latest Article: 2017 Federal Budget - Roads And Rail To Benefit From $70 Billion Spend
Federal Treasurer Scott Morrison's second budget has laid the foundations for a big spend on infrastructure, including roads, rail and Sydney's second international airport. In the 2017/18 Federal Budget handed down last night, M...
Continue Reading
May, 10 2017 (5 months ago)
1 Comment
Sep, 20 2016 (1 year ago)
Northern Territory Open Speed Limits Still Available To Carmakers - Gunner
Criticised for his government's decision to scrap the open speed limit trial in the Northern Territory as a matter...
2 Comments
Sep, 14 2016 (1 year ago)
Ex-Highway Patrol Officer Turned MP Says ?Speed Up? On Victorian Highways, But Q...
Australia's outdated speed laws are again under the microscope, with an ex-highway patrol officer from Victoria Po...
3 Comments
Aug, 31 2016 (1 year ago)
Northern Territory Open Speed Limits Scrapped By Incoming Labor Government
Despite what could only be described as a successful return to open speed limits in parts of the Northern Territory, the...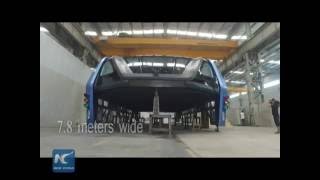 0 Comments
Aug, 03 2016 (1 year ago)
TEB Straddling Bus - China
0 Comments
May, 04 2016 (1 year ago)
Federal Budget 2016/17 - Small Business And Infrastructure In Front
With a Federal election expected July 2, the Federal Government last night handed down its 2016/17 budget. Small...
6 Comments
Oct, 01 2015 (2 years ago)
Tesla Superchargers Launched In Goulburn And Wodonga
Tesla's promise of a 'highway' of superchargers connecting Australia's eastern capital cities ha...
2 Comments
Sep, 14 2015 (2 years ago)
NRMA Study Finds Sydney 'Rat-run Short-cuts' Cost Time And Burn Fuel
The NRMA has set out to answer an age-old question with a new survey focusing on Sydney's toll roads. Some moto...
11 Comments
Sep, 04 2015 (2 years ago)
NSW And Northern Territory Look To Speedier Future
The governments of New South Wales and the Northern Territory are both looking to increase speed limits on some of their...
2 Comments
Aug, 06 2015 (2 years ago)
Motorway Debris Costing WA Taxpayers More Than $2m Per Year
Western Australian taxpayers are shelling out more than $2 million per year to deal with debris on the state'...
13 Comments
Jul, 09 2015 (2 years ago)
Low Speed Limits "Increase Risk" Says US Transport Professor; NT Expanding Open ...
A road safety expert in the US has declared the unthinkable: that "artificially low speed limits make roads le...
1 Comment
Jun, 24 2015 (2 years ago)
NSW State Budget: Record Infrastructure Spending Thanks To Stamp Duty
The New South Wales State Government has announced a record commitment to infrastructure in its 2015/16 budget, thanks i...
9 Comments
Jun, 22 2015 (2 years ago)
Queensland Learner Drivers: Forget Parking Skills, Just Don?t Speed
Queensland's new Labor Government has continued to target the state's motorists in its first months in ...