Research & Advice - Fuel Economy
Latest Article: Dieselgate - Volkswagen Diesel Fix Questioned By Independent Swedish Test
A Swedish examination of Volkswagen's diesel emissions fix has called into question claims the recalls do not compromise vehicle performance. Teknikens Värld, a publication famous for its dramatic "moose test" dynamic assess...
Continue Reading
Apr, 02 2017 (7 months ago)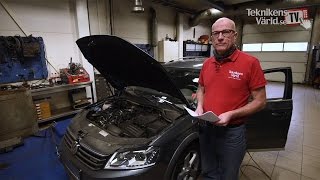 0 Comments
Mar, 29 2017 (7 months ago)
2017 Dieselgate Power And Economy Test - Teknikens Varld
11 Comments
Mar, 29 2017 (7 months ago)
Lobbyists Claim Fuel Consumption Stickers Are Lying And Regular Unleaded May Be ...
The Canberra-based Australian Automobile Association (AAA – the summit group of motoring organisations like the NR...
1 Comment
Jan, 30 2017 (9 months ago)
President Trump Looks To Loosen Fuel Economy Regulations As Part Of ?Business Fi...
Recently-adopted strict fuel consumption regulations in the United States could be scrapped by President Trump under pro...
0 Comments
Oct, 25 2016 (12 months ago)
2016 Jaguar Land Rover Connected Vehicle Testing - V2V V2I
2 Comments
Oct, 25 2016 (12 months ago)
JLR Teams Up With Ford And Tata To Test Connected Vehicle Technology
Jaguar Land Rover will join two other carmakers in a wide-reaching test of connected vehicle technologies, concentrating...
10 Comments
Oct, 19 2016 (1 year ago)
Small Turbo Engines Could Be Replaced By Larger Units In Pursuit Of Lower Emissi...
Large four-cylinder engines, small V8s and turbocharged three-cylinder donks - all have been trialled over the years as ...
1 Comment
Sep, 01 2016 (1 year ago)
Mitsubishi Fuel Economy Scandal - Eight Models Temporarily Withdrawn From Sale I...
Mitsubishi has withdrawn no less than eight models from its line-up in Japan following the carmaker's fuel economy...
0 Comments
Jun, 13 2016 (1 year ago)
Suzuki Fuel Economy Foibles Claims Boardroom Scalps - Including 38-Year CEO
Suzuki's declaration last month that it had manipulated fuel economy readings for some models has seen two board m...
6 Comments
May, 22 2016 (1 year ago)
Fuel Consumption, Emissions Performance And Other Fairy Tales
First the Volkswagen Group, then Mitsubishi, and now most recently Suzuki (er… kind of), have admitted to fudging...
2 Comments
May, 19 2016 (1 year ago)
Suzuki Admits To Incorrect Fuel Economy Testing Methods In Japan
Suzuki is the latest carmaker to come clean and admit its chosen methods for calculating official fuel economy readings ...
1 Comment
May, 13 2016 (1 year ago)
Mitsubishi Fuel Figure Saga May Affect More Models
Mitsubishi's false fuel figure debacle may yet reach further into the carmaker's past and model range. In...
1 Comment
Apr, 28 2016 (1 year ago)
Mitsubishi: 25 Years Of False Fuel Figures In Japan, But No Anomalies In Recent ...
Following Mitsubishi's admission that two of its Kei cars in Japan weren't tested for fuel consumption ...