Research & Advice - Dieselgate
Latest Article: Ford Mondeo Diesel Probed By German Authorities Over Emissions
Ford's Mondeo is the latest diesel-powered vehicle to catch the eye of authorities in Germany, according to reports out of Europe. Industry paper Automotive News cites German business magazine WirtschaftsWoche, which reports the Mondeo Diese...
Continue Reading
Aug, 11 2017 (2 months ago)
0 Comments
Jul, 10 2017 (3 months ago)
Audi US Representative Charged Over Emissions Scandal
Authorities in the US have charged a senior Audi manager over the Volkswagen Group 'dieselgate' emissions sc...
0 Comments
Jun, 27 2017 (4 months ago)
Volkswagen Dieselgate Buyback Extends To Germany
Volkswagen's dieselgate emissions saga has previously led to 'buybacks' in the US as part of the carmaker...
2 Comments
Jun, 18 2017 (4 months ago)
Fiat Chrysler Diesel Emissions Above Legal Limit -Dieselgate Researchers
Researchers who uncovered Volkswagen's now-infamous diesel emissions 'defeat device' have set their si...
0 Comments
May, 30 2017 (5 months ago)
Bosch Targeted In Fresh Diesel Emissions Inquiry
Parts and technology giant Bosch has found itself caught in the web of another diesel emissions inquiry, this time in th...
4 Comments
Apr, 02 2017 (7 months ago)
Dieselgate - Volkswagen Diesel Fix Questioned By Independent Swedish Test
A Swedish examination of Volkswagen's diesel emissions fix has called into question claims the recalls do not comp...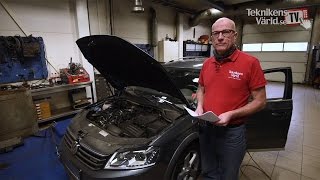 0 Comments
Mar, 29 2017 (7 months ago)
2017 Dieselgate Power And Economy Test - Teknikens Varld
2 Comments
Mar, 22 2017 (7 months ago)
Opel?s Diesel Emissions Investigation Closed
German brand Opel has been cleared in the French consumer authorities' diesel emissions investigation launched fol...
0 Comments
Jan, 17 2017 (9 months ago)
Fiat Chrysler Faces North American Probe on Exhaust Emissions
Fiat Chrysler (FCA) is to be investigated by the U.S. Justice Department for software designed to allow diesel vehicles ...
1 Comment
Dec, 15 2016 (10 months ago)
?Out They Go? ? American Volkswagen Owners Strip Cars Before Buyback
EBay and Craigslist in North America may be flooded with advertisements for used Volkswagen parts as unhappy owners affe...
3 Comments
Nov, 26 2016 (11 months ago)
Dieselgate Claims Its Biggest Scalp - Volkswagen To End Diesel Program In The US
Diesel is dead - at least that's the position of Volkswagen in the US as the fallout from the 'dieselgate&rs...
1 Comment
Nov, 07 2016 (12 months ago)
Volkswagen Claims Exhaust Software Meets European Legal Requirements
Barely one month after a $US15billion civil settlement in North America, Volkswagen's so-called 'Dieselgate&...
10 Comments
Oct, 19 2016 (1 year ago)
Small Turbo Engines Could Be Replaced By Larger Units In Pursuit Of Lower Emissi...
Large four-cylinder engines, small V8s and turbocharged three-cylinder donks - all have been trialled over the years as ...